Objectives
Weeds inhabit everywhere such as farmlands, amenity places and our living environment. Weeds are troublesome intruders for mankind, therefore, the appropriate control is usually desired. On the other hand, weeds are potential contributors to preserve our surroundings, such as restoration of damaged and poor lands. WSSJ consists of people who are playing active parts in weed research in viewpoints from principle to practical aspects. WSSJ aims at contributing to the prevention of weed damage and to the utilization of weed value by providing the chance of research presentation and information exchange.
History
Crop yields decreased due to various biological factors such as damage from plant diseases, harmful insects and weeds. Many ideas and inventions have been made to remove or prevent these adverse effects so far from the ancient times. However, with respect to weed control, there was no other way but hand weeding, which was physical and spiritual burden for farmers, before the launch of herbicides. In addition, the number of farmers has reduced and the aging progressed in rural areas owing to remarkable outflow of young labor force to the cities because of promotion and development of industrialization in Japan since 1960's. Therefore, invention of easy but effective weed control technology has been strongly desired.
Under these circumstances, collaborating scientists from various fields of specialization founded "The Weed Society of Japan" in January 1962 in order to establish rational and effective weed management technology. Then, the Society had been satisfactorily developing and was renamed into "Weed Science Society of Japan" (WSSJ) in April 1975, which simultaneously joined the Association of Japanese Agricultural Scientific Societies. WSSJ was also affiliated with the International Weed Science Society in 1977.
WSSJ has played important roles to establish "Weed Science" as an original field in agronomy, and to provide occasions for information exchange on weed science in wide views in Japan and other Asia-Pacific regions via our own journals/books, annual meetings, symposiums and so forth.
Major activities of WSSJ
To hold the annual meeting (usually April) and the Symposium (September)
To publish the journals of WSSJ, "Journal of Weed Science and Technology" in Japanese and "Weed Biology and Management" in English.
To confer the Research Awards
Weed Biology and Management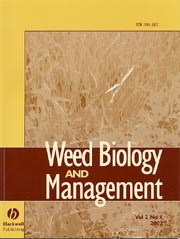 Journal Home Page (Wiley Online Library)
Membership
Office
Nakanishi Printing Co., Ltd.
Shimotachiuri Ogawa Higashi
Kamikyoku Kyoto, 602-8048 Japan
office@wssj.jp